Formation of the whole clinical psychologist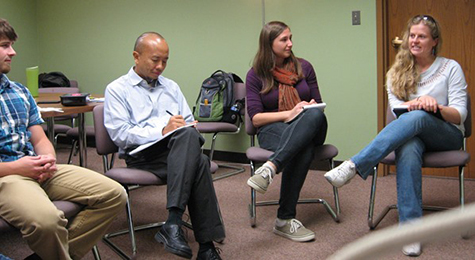 The purpose of the practicum seminar is to facilitate the professional, personal, and spiritual formation of each student as these domains relate to being an effective Christian clinical psychologist. The primary objective of the faculty seminar leader is to mentor students in their development as practitioner-scholars by helping them integrate academic knowledge and critical training issues with practicum experiences.
Professional formation:
The practicum seminar experience serves as the primary classroom-to-consulting-room-to-classroom bridge. Significant time and effort will focus on development of student's capacity to move from cognitive knowledge to experiential understanding, and vice versa. Course content and discussion will include understanding and application of assessment, intervention, research/evaluation, diversity, and ethics. Further, particular attention will be given to students' clinical training in the application of evidence-based psychological practices (EBPPs) in the student's clinical work.
Personal formation:
Students and faculty leaders together focus on development of professional identity, empathy, self- and other-awareness, contextual competency, and vocational mission and calling – all aspects of professional development that rely on the personhood and character of the student.
Spiritual formation:
Faculty leaders and students focus on the spiritual health and formation of students as their spirituality relates to relate to being an effective Christian clinical psychologist.
Integration:
The practicum seminar will facilitate integration between the professional, personal, and spiritual domains of the student's professional formation. This will include an explicit focus on integration of Christianity and psychology, but also will support the integration of personal-professional (e.g., use of self in psychotherapy), spiritual-personal (e.g., spiritual health while in graduate school), and spiritual-professional (e.g., use of spiritual interventions in clinical contexts) domains.
External supervision for Practica and Clerkship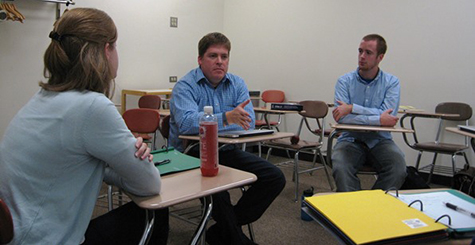 Given that clinical training experiences are conducted outside of the Wheaton College Psychology program, it is required that students will receive a minimum of one hour of supervision per week by the clinical supervisor at their training site who is a licensed clinical psychologist. A minimum of one and a half hours of group supervision by a licensed clinical psychologist can be used in place of individual supervision, although individual supervision is preferred. Because students sometimes receive additional supervision from other supervisors, there is a distinction made between Licensed Clinical Supervisors and Additional Supervisors. Clinical Supervisors are doctoral level licensed psychologists who are responsible for overseeing the student's clinical learning experiences while at the training site. The Clinical Supervisor has full legal and professional responsibility for the care of patients with whom the student has contact, and assists the College in evaluating the learning and performance of participating students. Additional Supervisors may be either doctoral psychologists or mental health professionals with other credentials (i.e., LCPC, LMFT, LCSW).