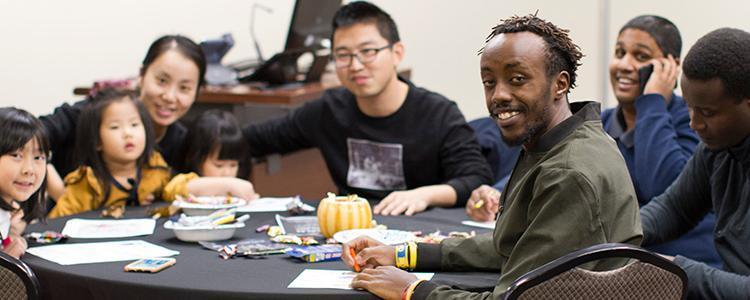 We are here to serve, equip, and empower current and incoming international students and their families as they learn to thrive on campus and in the United States.
If you're a current or incoming international student, visit our International Student Portal for additional resources!
International Student Events
All International Graduate Students are required to attend the International Graduate Orientation in mid-August. This event is set aside to provide a time of intentional preparation unique to the needs of an international student. We look forward to seeing you there!
We kick off every Fall semester with our annual All International Graduate Student Dinner. This is a time for all international graduate students and their families/roommates (and also those on OPT) to gather for dinner and fellowship. It's also a wonderful opportunity to get to know our incoming international graduate students!
Every fall semester, we gather as an international graduate student community to share a meal, relax and have fun together. Join us for an evening of enjoying the fall season in Wheaton!
The Rotary Club of Wheaton has a history of supporting international students at Wheaton College, and every Spring semester they host a dinner for Wheaton students. This dinner is a great way for international students to network and form friendships with business people in the community! Many of the Rotary members continue to stay in contact with the Wheaton students they have met over the years.
Every Spring semester, we hold a dinner for all Spring and Summer graduating international graduate students and their families. Join us for a time of reflecting on your experiences at Wheaton and processing your transition as you move on from here, either to OPT, or back home, or to a new country of service as the Lord leads. Families or close friends are welcome and encouraged to attend!