Conferences, Colloquiums, and Events
The Mission, Ministry, and Leadership programs host many lectures and conferences each year featuring speakers from the fields of Ministry, Leadership, Humanitarian Relief, and more.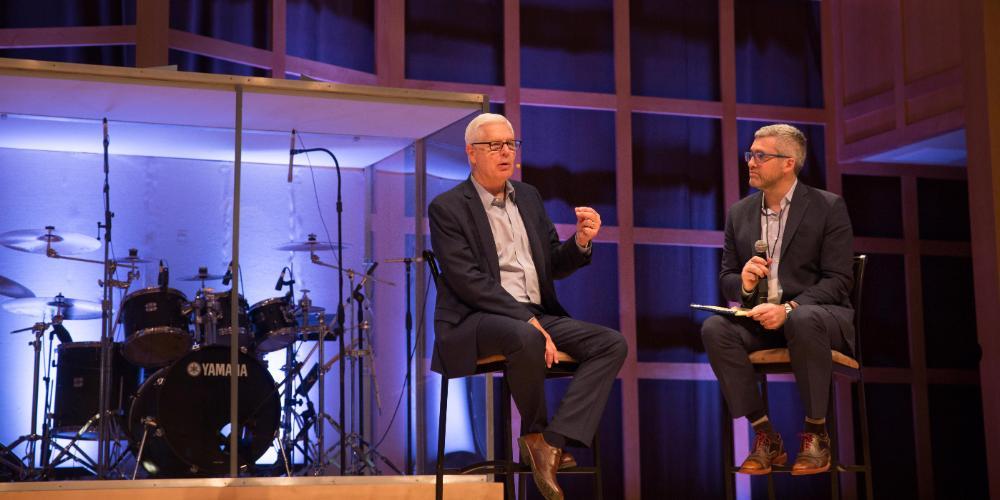 Richard Stearns, retiring President of World Vision U.S., at the 2018 Disaster Ministry Conference
From events, lectures, and conferences such as the Amplify Evangelism Conference, the Disaster Ministry Conference, John A. Gration Lecture Series, and more, our events feature contemporary speakers of international, academic, and ministerial renown. By offering a large variety of events, the Mission, Ministry, and Leadership programs provide students and faculty the opportunity for exposure and engagement in current, cutting-edge scholarship in the international community of leaders and ministers.
2019 John A. Gration Lecture

Dr. Karianjahi '03 is a Kenyan living in Three Lakes, Wisconsin with his wife and two young adult sons. He coordinates the Global Initiatives and MA in Outdoor and Adventure Leadership programs at HoneyRock, and the Outdoor Center for Leadership Development at Wheaton College.
Dr. Karianjahi will lay out a basic anatomy of rites of passage as described by Arnold Van Gennep at the turn of the 20th century, and examples in pre-industrial, traditional, and contemporary societies. He will explore the efficacy of rites of passage as scaffoldings for successful life transitions and propose how they can build village-like (Kijiji in Kiswahili) communities today for human flourishing.