This year marks the 5th annual "Changsgiving," a Korean-American Thanksgiving dinner hosted by Wheaton College Ministry Associate for Discipleship Ray Chang '06 and his wife, Jessica Min Chang '12. "Changsgiving" has become a beloved tradition for Wheaton College students who stay on campus over break.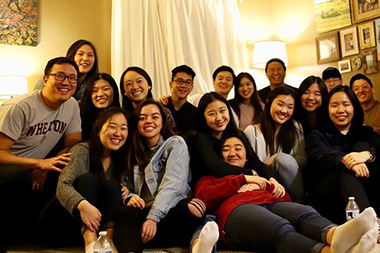 Most Wheaton students return home for the College's Thanksgiving break, but for others who remain on campus, there's one place in mind: Ray Chang's "Changsgiving."
"Growing up, our home always had a revolving door of hospitality," said Wheaton College Ministry Associate for Discipleship Ray Chang. "From my parents, I've learned that we—and what we have—are not our own, but are intended to be used to bless others. As I interacted with students who didn't have a place to go for Thanksgiving, Jessica and I wanted to offer our home, so I began inviting them over—and the next thing I knew there were 15 to 20 students at the house."
Chang and his wife, Jessica, have kept up the tradition since 2015 when Chang first came on staff.
From Singapore to Hawaii, Italy to Brazil, the Changs host students from across the U.S. and all around the world.
"My first Thanksgiving experience was definitely one to remember," said sophomore Mieko Yamamoto, who attended last year's event. Yamamoto lives in Tokyo, Japan and couldn't make it home last year for the short Thanksgiving break. "It was overall an amazing experience filled with love, laughter, and food."
The atmosphere at Changsgiving is very relaxed and comfortable. In fact, if students arrive early enough, they're enlisted to help with the food preparation. A typical "Changsgiving" meal is served with a Korean twist, and it includes dishes like 밥 (Bap, rice), 돼지갈비 (Dweh ji gal bee, pork spare ribs), 만두 (Man doo, Korean fried dumplings), and 반찬 (Ban chan, Korean side dishes).
Senior Gaius Lee, from Singapore, has attended the event each year at College. One year stands out as being especially memorable. He was helping cook when a pan got too hot and started smoking. "A thick fog descended on everyone that was in the house and it was so bad that people could not see to the end of the room," he said.
Some years there are as many as 25 students cooking, hanging out and eating--and sometimes there aren't enough chairs, so students will find places to sit and eat on the floor.
"If our home was larger, we would definitely host more people," Chang said. "I wish we lived in a house that could accommodate more people. As it is, when we have 20 people, everyone is everywhere, but I love seeing how people move around to make room for everyone else."
Over the years, guests have started trickling in as early as 11 a.m. and stayed as late as midnight.
"As Korean-Americans, we're less time-oriented and more event-oriented," Chang said. "We leave the whole day open so people could feel the freedom they would feel with their immediate family in their own homes."
In addition to the meal itself, students will hang out by talking, doing puzzles, and playing board games. "These moments can get really intense," Lee said, adding that they're always entertaining too.
But in the midst of the craziness, Chang begins the dinner by bringing everyone together for an annual tradition—having guests pray in the native languages represented, reminding them of God's provision and blessing in each of their lives. "We want to celebrate the ethnic and cultural diversity that is gathered at Wheaton College—and one small way is to highlight how God is at work in every nation, tribe, people, and language," Chang said.
Though it takes a village to make this evening possible, it's a great opportunity for people to come together, eat, and fellowship in thanksgiving—despite being far from home. This year, the Changs will host a group of undergraduates on Thursday and a group of graduate students on Friday. Some students—like Yamamoto and Lee—are joining the Changs once again.
"I love that we get to do things like this for our beloved Wheaton students," Chang said. "I love that we get to be a part of people's lives throughout their time here at Wheaton and beyond."—Mika Ro