Before you arrive on campus, there are a few things you need to do to ensure a smooth transition.
Decide what computer you will bring, and buy one if necessary. There are labs available on campus for your use, but bringing a personal computer is highly recommended.
Make sure your computer has all software and security updates, and configure it to automatically update. If you have Windows 8.1 or newer or macOS, your computer already comes with virus protection. Otherwise, you will need install an anti-virus program before connecting your computer to our network.
If you are bringing a Chromecast, wireless printer, or similar device, learn how to connect to the network without degrading your wireless connection.
Update your emergency contact information. In case of emergencies, it is important that the College be able to contact you on a mobile phone number.
Review the 3 Simple Steps for Cyber Security, learn more about email scams, and check out the winning videos for last year's Cyber Security Video Contest.
Take advantage of the service you have access to as a Wheaton Student. Be sure to review both the New Student section, Flexible Learning Student section, and the Current Student section.
We are looking forward to seeing you at Orientation. Technicians and staff from Academic and Institutional Technology will be in residence halls during Move-in.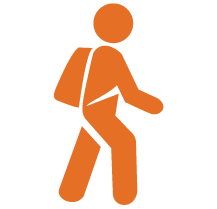 NetID and Password
If you have been accepted as a student at Wheaton College, set up your NetID and password here.